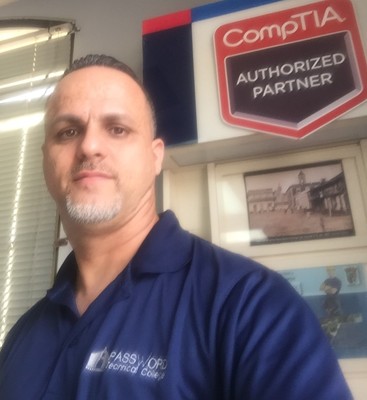 Jeffrey Jusino
A+ certified professionals have mastered the technologies found in today's extensive and varied IT environments, from mobile to traditional devices and operating systems. They can confidently handle the most challenging technology problems more efficiently.
A+ validates foundational skills
A+ establishes best practices in troubleshooting, networking and security across a variety of devices to set the stage for IT careers. The certification also matches professional tech skills with communication skills.
A+ is trusted by employers
As businesses and governments worldwide continue to adopt mobile and cloud technology, they trust A+ certified professionals to keep their devices running and organizations working smoothly.
A+ is globally recognized and accredited
CompTIA A+ is compliant with ISO 17024 standards and is approved by the U.S. Department of Defense to meet directive 8570.01-M requirements.
A+ is industry supported A+ is developed and maintained by leading IT experts. Content for the exams stems from a combination of industry-wide survey feedback and contributions from our team of subject matter experts.
In Password Technical College we have the best resources and instructional expertise to help you gain confidence, obtain and retain the necessary knowledge to succeed and become part of an elite class in the technology industry. 
Here is the class outline:
This is an introductory to the CompTIA 220-901 & 902 exams, what they cover and what to expect
This domain represents 34 % of the CompTIA 220-901 exam